Living Development Concepts (LDC) is a Community Housing Development Organization established to transform communities by innovative partnership and initiatives that revitalizes neighborhoods by creating affordable housing for eligible populations.
Providing affordable housing for eligible populations is the foundation of our vision. We stress attention to energy efficient concepts and materials to the contractor. We have guided several families through the process of purchasing a home from start to finish. Whether you want to purchase a home or need housing assistance for a rental, Living Development Concepts can help.
LDC has a variety of referral programs to help with financing, including down payment assistance, mortgage loans, and post-purchase assistance, as well as certified classes that will allow you to proceed with confidence.
Our counseling staff will help guide you through every step of the way, whether it's renting vs. mortgage, loss mitigation, reverse mortgages and credit issues here in Davidson County and the surrounding areas.
Living Development Concepts, Inc. is a non-profit, public charity foundation as defined under section 501(c) (3) of the Internal Revenue Code serving Nashville and the surrounding areas. To become a volunteer or sponsor, donate materials/supplies, make a tax deductible contribution, or obtain additional information, visit our CONTACT US page or email us at info@ldc-nashville.com.
---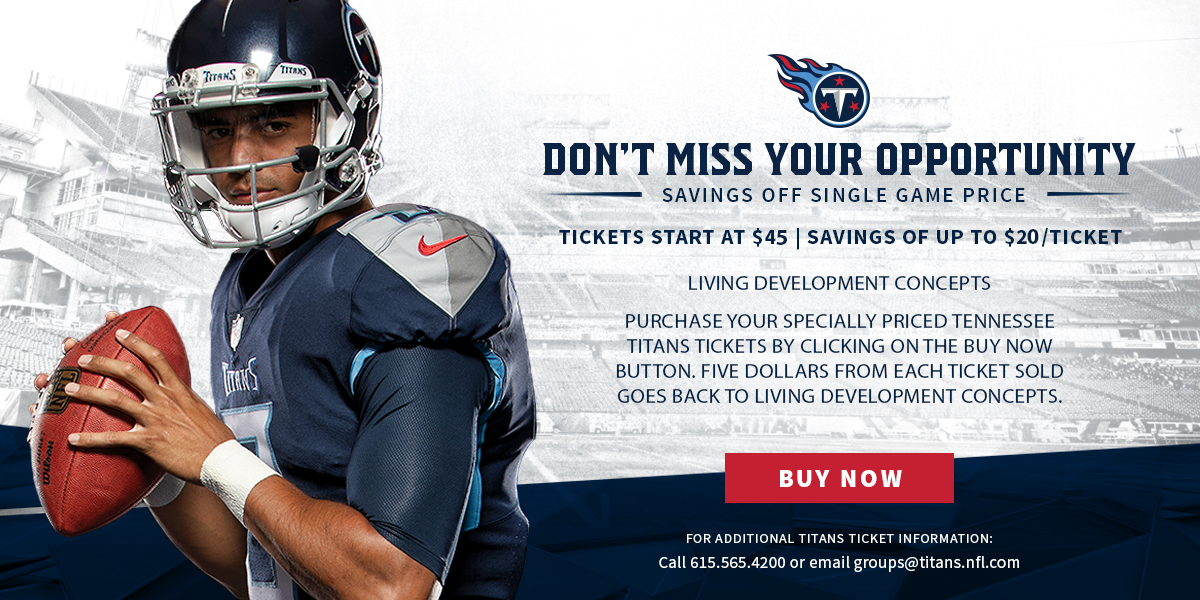 Join Us for a Tennessee Titans Game and Help Us Raise Some Money! Come cheer on The Tennessee Titans as they face their division rival, The Indianapolis Colts on Sunday, December 30, 2018 at Noon. For every ticket sold, $5 will go back to Living Development Concepts! This donation will go toward our mission of providing reliable housing services in the development of safe, decent, and affordable housing for low and very low income individuals along with housing education. These are 300 level tickets from $45 per ticket. After you place your order, you will receive an email from Fevo two days before the game with instructions on how to access your mobile tickets. JOIN US! GET TICKETS NOW